Modern mentoring goes beyond the traditional one-to-one mentoring model and embraces a wide variety of models that organizations can implement. While traditional mentoring will always be there, modern mentoring gives organizations the ability to provide more options for mentoring to be offered.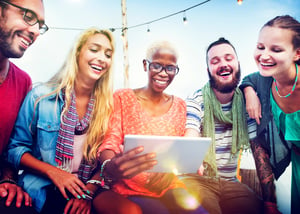 There are four common objectives for modern mentoring:
Increase the number of individuals that are able to participate in a mentoring program
Increase retention through multiple generations
Increase overall engagement
Implement a more broad and flexible learning model
The reason that most organizations are embracing the modern mentoring styles and striving to achieve these objectives is simple- they are thinking about their millennial employees. Millennials are bringing new ideas to the table and sharing their desire to have more options to choose from, especially when it comes to their career development. Their need for a more "equal" form of mentoring in a more casual setting is exactly why modern mentoring styles are working for so many organizations.
There are many types of modern mentoring that an organization can offer to their employees, but we are going to just focus on 5.
Click on each type of modern mentoring to learn more....
Flash Mentoring | Virtual Mentoring | Group Mentoring | Reverse Mentoring | Speed Mentoring
Watch the On-Demand Webinar: 5 Types of Modern Mentoring for Your Organization
---
is a type of modern mentoring that allows you to achieve a short-term objective in a low pressure environment. The focus is on the mentor's needs can be filled in a single meeting. Participants are interested in solving an issue quickly and moving on.
Sometimes, organizations struggle with knowing when to use flash mentoring for their participants. Listening to their participants is the best way to find out what they need. Those that need flash mentoring are looking to...
Gain advise and support for learning a hard skill

Better understand best practices within the organization and/or a specific role
To get an outside point-of-view on a single issue
Another great thing about flash mentoring is that the process is not complicated. There are only a few steps involved in making this work and mentor matching can still take place so that the best relationship is being formed.
Step 1: Mentee sets a goal to achieve
Step 2: The mentee is given a pool of mentors to choose from
Step 3: The mentee sets up a one-time meeting to accomplish their goal
Step 4: The mentee requests an additional meeting, only if needed
is exactly what it sounds like- mentoring that takes place virtually. The participants do not meet face-to-face and instead use virtual means, such as Skype, email, or a messaging system, for their mentoring relationship. This type of modern mentoring is typically used for work forces that are widely dispersed or have demanding schedules.
Individuals are asking to be a part of a virtual mentoring relationship because they are seeing many benefits. These include...
Less restrictive schedules allow for meeting times to be more flexible
More inclusive program for better matching potential
Exposure to different parts of the organization
Manage impressions and interactions to reduce inhibitions and increase the possibility for communication
As with all mentoring programs, there are some challenges that could arise during a virtual mentoring relationship. It is important for the program manager, mentor, and mentee to be aware of these so that they can develop solutions before the issue arises.
Inability of participants to read body language, facial expressions, and gestures
Differences in time zones should be taken into account
The level of engagement for each participant may be unknown
Technology problems can hinder the progress of the relationship
---
is based on the idea of individual learning in a group setting. This is usually done with multiple mentors and multiple mentees in the same group. Group mentoring is perfect for organizations that may not have enough qualified participants to implement traditional mentoring relationships.
Group mentoring may seem a little far-fetched for some, but there are many individuals that prefer the group setting. These are the people
that are seeing the following benefits...
Opportunity to network with more mentors and/or mentees
Support from all participants in the group
More knowledge of expertise from multiple sources
Diversity and increased awareness
Alignment of skills
As we have seen with every program, group mentoring also has its challenges. Being aware of these gives the program managers and the participants the chance to develop solutions before these issues arise...
Ability to meet individual and groups needs
Varying group dynamics and learning styles must be taken into consideration
Less of a person relationship offered
Scheduling challenges
Lack of confidentiality
---
takes the traditional mentoring roles and reverses them. That means
a junior level employee is the mentor and a senior level employee is the mentee. This type of modern mentoring is typically used when the goal is to help an employee become more familiar with topics such as technology, social media, and current trends.
Reverse mentoring asks the organization, the mentor, and the mentee to step outside of the box and try something that they may not be entirely comfortable with. This leads many organizations to wonder how reverse mentoring can benefit them...
Closing the knowledge gap allows the different generations to gain knowledge on topics that they normally wouldn't have access to. This leads to more rounded individuals for the organization.

The junior level employee can gain confidence in a role that is usually only held by organization leaders. This confidence can empower them to take their own leadership development to the next level.

Not only are you closing the knowledge gap with reverse mentoring, but you're also closing the generation gap.
In order to see these benefits, organizations have to help their mentor and mentee make the reverse mentoring relationship work. Here are some tips to give your participants during their mentoring training...
Expectations should be defined for both parties so that the relationship is mutually beneficial

Everyone must be willing to learn

Get ready to leave your comfort zone, and know that it will be ok

Overcome any differences that arise and be transparent with your partner

Commit to the relationship
---
is a series of short, focused conversations about specific questions. It involves one-to-one interaction where the mentee rotates to several mentors. This process of this type of modern mentoring is often compared to that of speed dating.
Yes, we just compared
speed mentoring
to speed dating, so you are probably thinking there couldn't be any benefits, but there are...
The mentee is able to experience many different interactions in a short period of time
Useful in assisting with mentor matching
Can be implemented as part of a broader mentoring program
Increased network opportunities for both mentees and mentors
It's important to market your speed mentoring event so that people will attend. Here are 3 steps to getting your event going....
Plan your speed mentoring event- date, time, venue, etc.
Use marketing tools to invite participants to the event
Allow participants to find out who will be attending before hand
Give the mentees some tips- they need to prepare for this event with specific, targeted questions
---
Watch the On-Demand Webinar: 5 Types of Modern Mentoring for Your Organization